Pro Blind Cleaners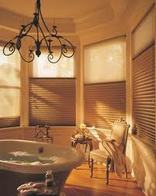 You purchase your blinds to add beauty, protection and privacy to your windows. Don't let dust; smoke, bacteria and grime destroy your investment. It's a proven fact that grease, smoke, dirt, grime and filth cause the ladders, slats, mechanism and cord to oxidize and dry rot 5 times faster than a clean blind. Not to mention, the health, allergy problems, and the unsightly look of those blinds. We care for our furniture, carpets, and draperies, but overlook our blinds, which is a sizable investment. Blinds are overlooked because of the drudgery involved in cleaning them.

If you have tried to clean your blinds, you know what a valuable service this can be. Our method eliminates the need for individuals to stand on a ladder for hours wiping and/or vacuuming them.

Pro Blind Cleaners is dedicated to excellence in product and in service. Your blinds are cleaned employing the latest modern Ultra-Sonic Technology, which has many advantages.

Repair and Maintenance Specialists:

Working with top manufacturers like Hunter Douglas and Graber, you receive a product that is of the highest quality and value. As well, we provide a maintenance and repair service that is second to none. Offering free-estimates and free pick-up and delivery to the Northern New Jersey area. Trust us with your blinds and/or shades...receive in return, satisfaction.

---
Why should you think about using us?Free Estimates! Free pick-up and delivery!We use Ultra-Sonic Technology to clean your
dirty blinds, eliminates static which attracts dust.


Silhouettes
Luminettes
Mini Blinds
Cloth Verticals
Vinyl Verticals
Cell Shades
Plated Shades
and more...

We clean and maintain everything that is sold by
Pro Blind Cleaners!

We repair & restring.

We come to your home or business!Give us a call today for a FREE Estimate!!

Pro Blind Cleaners, Corp.

Phone (973) 835-0771

Cell (973) 698-9494

Fax (973) 692-9372

PO Box 331

669 Ringwood Ave

Wanaque, NJ 07465

problindsnj@gmail.com

---